As we approach one of the most hotly anticipated Winter Open Studios yet, we're exploring the themes and disciplines that connect our community of makers. 
Cockpit makers push boundaries at every Open Studios, but this year will be particularly special as we launch a brand-new Cockpit Deptford! From 1-3 December, the building and surrounding area will come alive with a buzzing programme of activities, from live music and dance to spoken word and workshops. Spots are flying, so register today.
This week we're spotlighting a few of the varied, slow-made, long-lasting ceramics that come out of both Cockpit Bloomsbury and Deptford – and there's so much more to explore… Read on and start planning your trip(s).
Ho Lai: Cockpit Deptford
Ho Lai is a ceramic artist from Hong Kong, based in London. Her work explores contemporary ceramics, experimenting with the materials and processes involved in its creation. The interrogation of ideas, colour combinations and material experimentation are all integral to her practice. 
Sara Dodd: Cockpit Deptford
Sara is an award winning porcelain artist. Often wall-based, her work can be mistaken for paper due to the wafer thin layers of porcelain, which are delicately constructed to create her final works. She creates the thin layers by using clay in its liquid form and painting with it. 
Sara draws inspiration from her immediate environment. She says: 'it could be a colour combination or a quality of light, I try to keep my eyes open to discover and absorb the things that surround me.'
Sara is also the winner of The Young Masters Emerging Woman Artist Award 2023 along with other extremely talented artists – for her piece 'Decipher'(2023), a 'painting' using liquid porcelain clay. This is awarded by Dr Chris Blatchley for £1,000 along with mentoring, career advice and inclusion in an upcoming Art Fair with Cynthia Corbett Gallery.
Candice Lau: Cockpit Bloomsbury 
Candice Lau is an award winning master leatherworker. With a desire to break conventions in leatherwork, she uses it in combination with clay to create sculptural objects and products that celebrate craftsmanship and the essence of the materials. 
Joe Garcia: Cockpit Deptford
London-based Joe Garcia started out by learning to throw in his attic at home, using the same bag of clay for over a year, throwing pots, destroying them and throwing again until he felt confident on the wheel. Since then he has developed a unique style, experimenting with photo transfers and taking his practice further as a part of the Make It Award at Cockpit.
Lucille Lewin: Cockpit Bloomsbury
Through porcelain, ceramist Lucille Lewin explores the 'chaos we have created' – be it the impact of climate change, social inequalities or political power struggles – as well as the wonders of knowledge and imagination. 
In her works, porcelain clay is modelled, dipped, slipped, cast, thrown, cut up, pressed, extruded – then broken and reassembled over months of making.
Matthew Warner: Cockpit Deptford
While pottery has had a renaissance over the past few years, Matthew feels that the craft has been diluted by lifestyle brands. Instead he invites his audience to relish its rich cultural history, in particular 18th century potter, Josiah Wedgwood.
"Pots fascinate me because they embody and articulate so much information about society and culture. They are relics or signals of taste, social behaviour and cultural history."
Tessa Eastman: Cockpit Bloomsbury
Tessa Eastman is an award-winning artist with over twenty years' experience working with clay and glaze. Her dynamic sculptures sit at the vanguard of the contemporary ceramic art scene, offering originality, skill and a daring approach to the art form. Eastman's meticulously hand-built Cloud Bundles and complex Crystalline Formations appear curiously alive with movement and have found a following among collectors, gallerists and ceramophiles alike.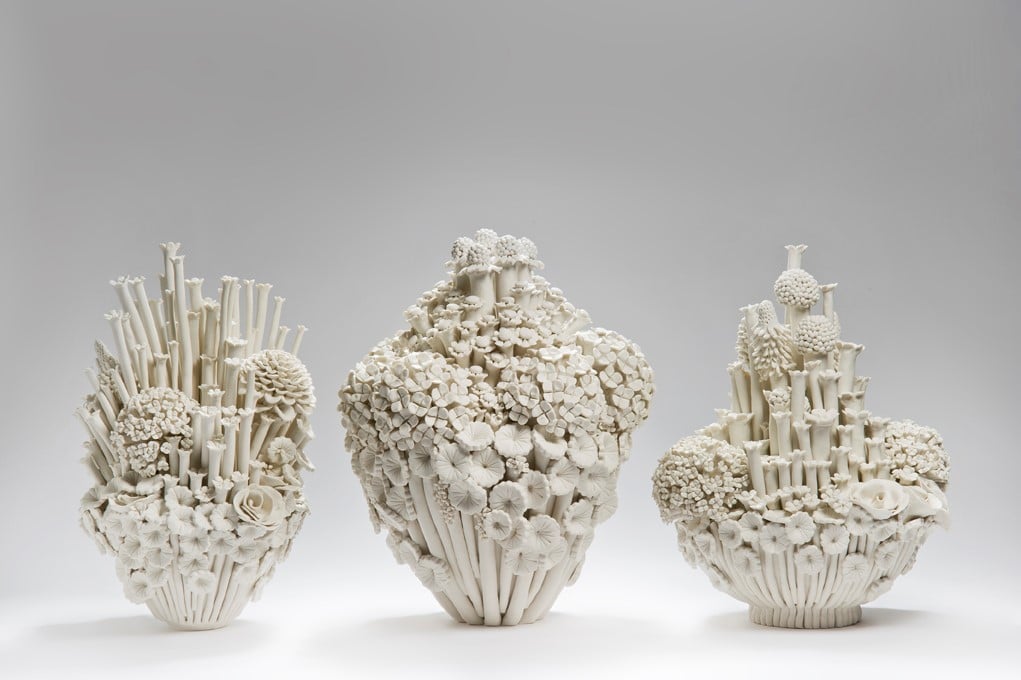 Vanessa Hogge: Cockpit Deptford
At once organic and ornate, spontaneous and stylised, Vanessa Hogge's decorative wallflowers and vessels bring a unique textural and visual dimension to any wall or table.
Working in porcelain, she takes an instinctive, visceral approach to each piece, painstakingly sculpting every petal and anther by hand so that no two flowers are identical.
---
Meet these makers and many more in person! Book your spot for winter open studios HERE.