This year, for our winter open studios in Holborn and Deptford, we're joined by new café partners, Gaff. They're our neighbours in Deptford and a favourite lunch spot, and we're delighted they're bringing their excellent coffee and snacks to each weekend in our Exhibition cafés.
We'll be offering a place to meet your friends during your visit and grab some tasty refreshments so you can continue your shopping with Cockpit's makers. We're transforming these spaces with thanks to our talented resident craftspeople and displaying some of their latest creations.
In Holborn
From her recent major exhibition at Morley Gallery, ceramic artist Helen Johannessen will be displaying sculptural ceramic lighting entitled Breathe In. Breathe Out. And. 2021 and This Is How I Feel 2021. Made from layering up cast strips of clay, handmade and arranged to respond to the high firing temperatures of 1260 degrees. In the final process, the material properties of ceramic fluxes and moves, no longer controlled by the maker, porcelains' delicate and fluid characteristic takes over the final form. Using the translucency, light is added to highlight the shape, colour and openings.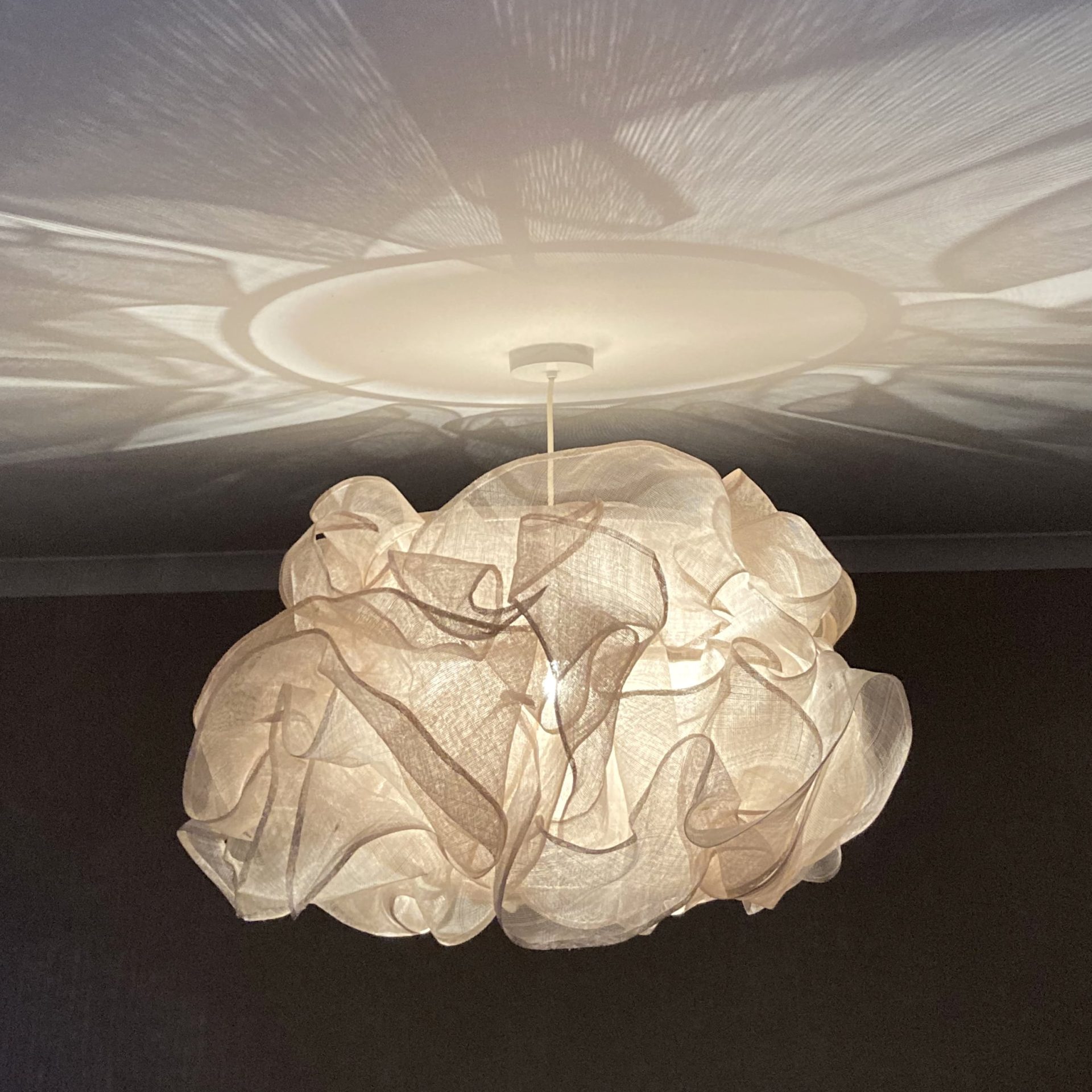 Continuing the illumination theme, milliner Karen Henriksen has re-imagined millinery techniques and materials and applied these to create new diaphanous lightshades. Made from sinamay (banana fibre) in shades of ivory, natural, gold and bronze, each lightshade is a one-off piece, individually sculpted, draped and hand-stitched. Providing an elegant and sophisticated couture finish to any room, when sleeping they are pieces of sculpture in their own right. When illuminated they provide a gentle ambience, or can create dramatic, kaleidoscopic contrasts.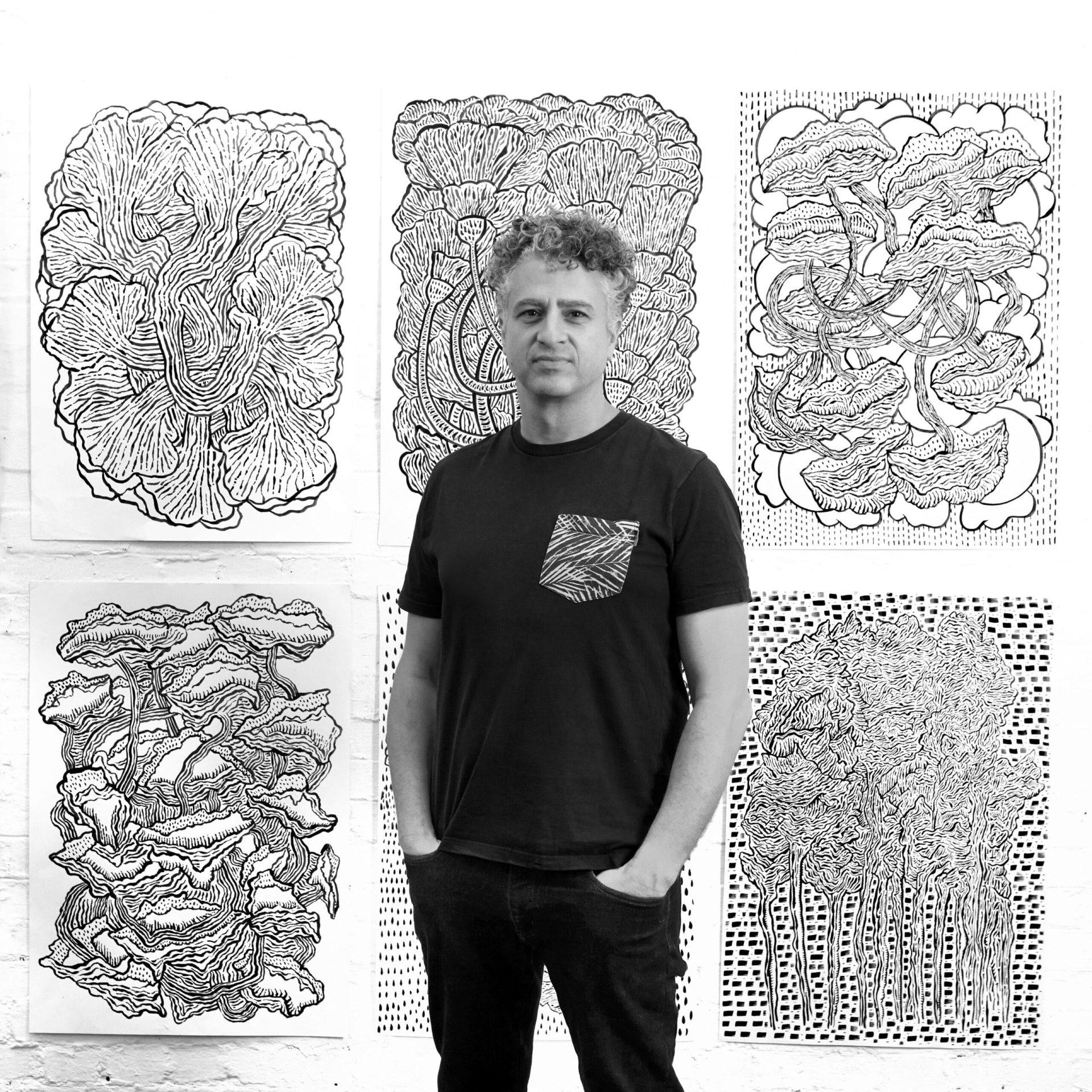 Graphic and product designer, Craig Yamey, will be showing a series of new black ink drawings Organic Matter. In 2009, his passion for brush and ink work took him to Hội An, to study Vietnamese calligraphy for 2 months. With a love of Japanese woodblock and Chinese landscape painting, Craig's work draws on themes of nature; winding creepers, floating clouds and migrating spores. As a graphic designer, he loves to use a strong black line, creating a vivid interpretation of the natural world. Working from imagination Craig loves to create a visual world where reality meets fantasy.
Multi-disciplinary designer, Rentaro Nishimura, has created a wall piece composed of 1702 individual pieces. Each resin piece was cast with 3D-printed moulds and was assembled manually to create colour transition. Rentaro's work draws on principles of origami, repeat modular forms, self-assembly and flat-pack designs. From lights to rings, chairs to wedding dresses, window installations to packaging and using the latest digital technology of 3D printers and laser-cutting, Rentaro's work bridges the gap between craft and technology.
In Deptford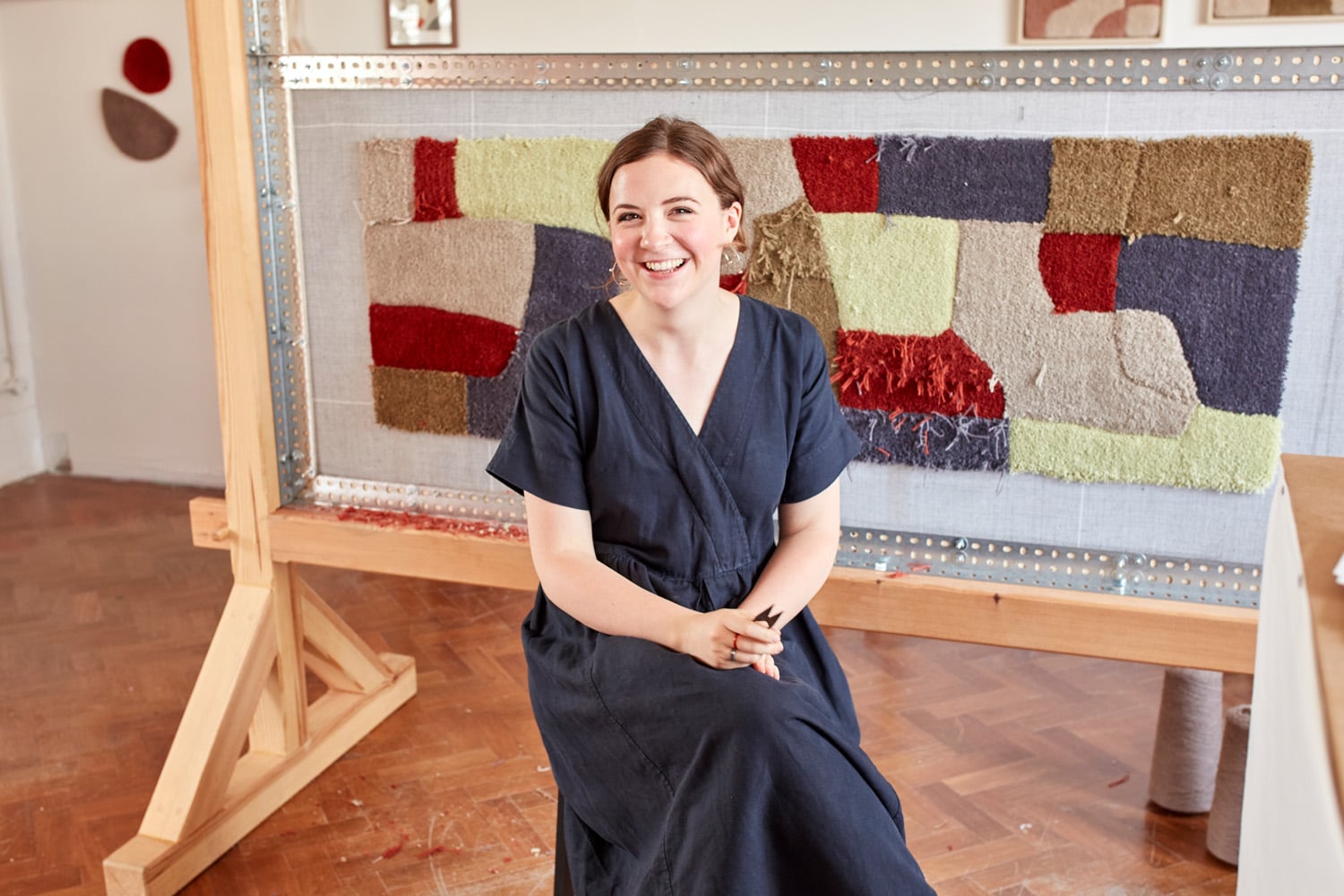 India Copley Completed earlier this year as part of our Summer Festival 'Big Make', this is the first time textile designer India's artwork made from hand-tufted wool has been on display. "Following the theme of 'community', I drew inspiration for the shapes in this piece from familiar and nostalgic spots in the North Yorkshire countryside where I grew up. These were then abstracted and composed in my signature colour palette, with the intricate sculpted surface of the piece highlighting the warming, touch-worthy qualities of wool."
'Nove Finestre In Piega' and 'Finestra Spelata' from textile artist Francesca – "These two woven panels are part of a series of pieces developed on the idea of play as a process which involve exploration as well as destruction. Separating layers and unfolding are gestures which act as a way of discovering hidden aspects of something we come across, and of challenging our perceptions. Each piece has been hand-woven using a variety of paper yarns which affect density, texture and structure of each layer."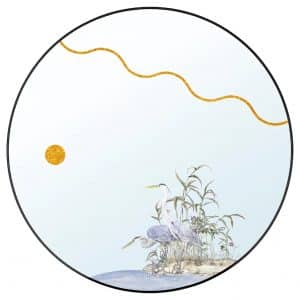 'Shifting Landscapes' is a mirror installation by ceramicist Timea Sido and wallpaper designer Sian Zeng. Sian was born in China yet both artists spent many childhood years in Hungary. The project explores their joint cultural heritage, merging both Oriental and European painting styles with a shifting composition, depending on who or what is reflected in the mirror. Timea embeds Sian's hand-painted illustration into the mirror and embellishes it with gold leaf.