Cockpit has been awarded £2.3 million towards development of our studios in Creekside, Deptford. The project, funded by the Mayor of London's Good Growth Fund and the Stride partnership and delivered in partnership with Lewisham Council, will see new and extended studios to accommodate more businesses, two new education and community spaces, a public café and garden.
This is a landmark moment in Cockpit's history. An award-winning charity and UK top 100 social enterprise, we have  operated in Deptford since 2002, where we are home to over 60 microbusinesses, working in more than 20 different crafts, including jewellery making, leatherworking, ceramics and handweaving.
Situated within the Deptford and New Cross Creative Enterprise Zone the remodelled building will create new, affordable studio space and shared equipment hubs, accommodating an additional 21 businesses and supporting 26 jobs. It will also enable Cockpit to extend our award-winning business incubation programmes in Lewisham to 130 creative businesses.
Making the building and activities more open, welcoming and accessible, the flexible education spaces will meet growing demand for events and practical workshops by and for local groups.  A café and garden space will give Cockpit a permanent public entrance for the first time, transforming the organisation into a vibrant community hub. The proposals were supported by 32 local and national organisations and individuals.
The project, designed by Cooke Fawcett Architects, will complete in 2023.
Annie Warburton, CEO, Cockpit Arts, said,
"This exciting news will see a transformation of Cockpit Deptford from a relatively self-contained organisation into a vibrant community hub on Deptford's Creekside. Our vision is to build a thriving centre for craft and making, providing affordable studios, expert business support, local jobs, and a rich programme of workshops, exhibitions and events.
We look forward to opening in 2023 with a confident new public presence, greater connections with local people, and more studios, securing Cockpit's place in Deptford to launch the careers of future makers."
Councillor Kim Powell, Cabinet Member for Business and Community Wealth Building, London Borough of Lewisham, said,
"The new funding for the Cockpit Arts redevelopment is great news for Lewisham and a huge boost to the borough's creative sector which is so important to the growth of our local economy as we emerge from the pandemic. This investment through our STRIDE partnership and the Good Growth Fund helps to protect our blossoming businesses. It will increase our capacity to create and safeguard local jobs, while offering our emerging makers and artists the business support they need to ensure they can flourish."
Jules Pipe, Deputy Mayor for Planning, Regeneration and Skills, said,
"This investment from the Good Growth Fund and the Stride partnership will help to promote local employment, as well as protecting existing community and cultural spaces that are crucial to London's recovery from COVID-19.
This project will create much needed studio, community and educational space to support current and future generations of creatives. The welcoming, newly accessible public entrance on Creekside will show local residents that Cockpit Arts is a vibrant community venue that is open to all."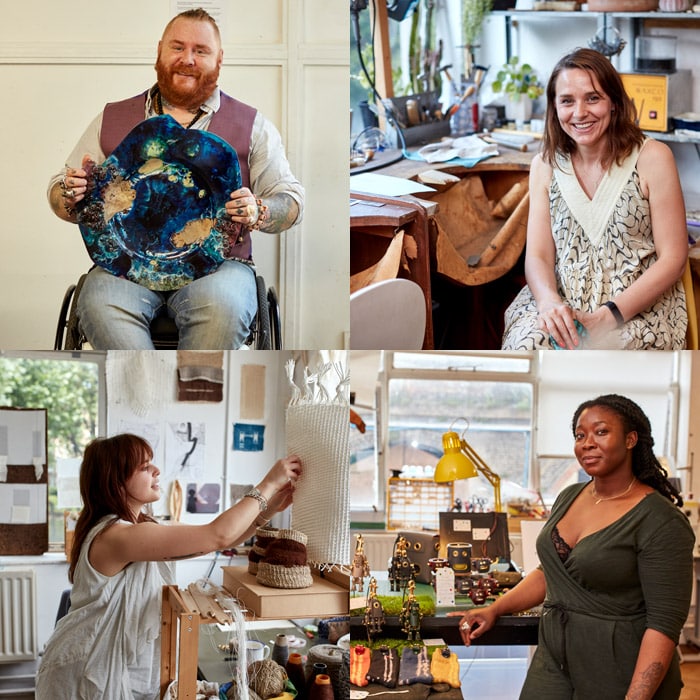 Photos: Cockpit Summer Festival 2021 in Deptford, by Gareth Hacker. Makers: Jacob Monk, Jason Lock, Hannah Bedford, Francesca Miotta, Anu Bankole.
Header image by Jamie Trounce.