We're always delighted to welcome new makers to Cockpit. We love to see them flourish and, at the same time, contribute so many new and exciting ideas to our established and supportive community.
This year's Cockpit Makers' Market – our annual Winter Open Studios event – will see thirteen new makers take part for the very first time.
Exhibiting as clothworkers, basketmakers, haberdashers, jewellers – and so much more – we cannot wait to introduce you to: Ashley Knight, Fadhel Mourali, Peipei Wang, Patrizia Sascor, Daisy Tempest, Mike Groves, Anna Stefanou, Hannah Cawley, Katy Watt, Kamilah Ahmed, Aniela Fidler Wieruszewska, Cat Hart and Rachel Jones.
In the first of three articles with new Cockpit makers, we asked Clothworkers Awardees Ashley Knight, Peipei Wang and Fadhel Mourali what excites them about the future of craft.
Ashley Knight, pictured above
"I find the increased awareness and enthusiasm for creating a more sustainable future within the creative arts industries and craft super exciting, as there is so much passion and inventiveness being shown by designers and craftsman all around the world. It is really exciting to see how my own approach to sustainability alongside other crafts people's approaches will impact the industry and how it works."
"New technologies and digital platforms give craft more possibilities and make it visible to more people. I hope I can combine modern aesthetics and technology to promote some traditional handicraft techniques and cultures."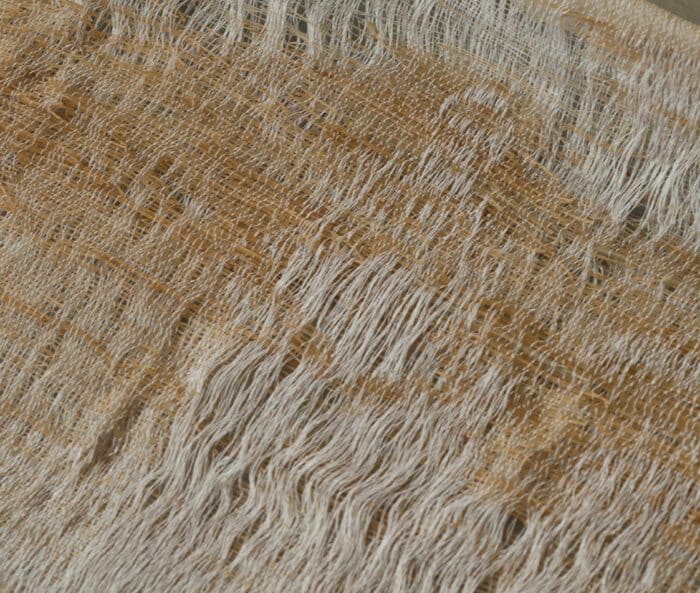 "[What I find most exciting is] promoting the transcendent nature of craft, its inherent ability in affirming identity, belonging and being a reason for gathering. Craft is a skillset that promotes self-sufficiency which is instrumental when forming a sense of self. [At the same time it is] innately political, used as a tool for change in the face of societal changes, such as social injustice or the climate crisis."
And what can we expect to see from these three talented clothworkers at this year's Cockpit Makers' Market in Deptford?
Ashley specialises in woven textile design: "I'll be showcasing my graduate and most current woven work. I am hoping to meet designers and buyers at Cockpit Makers' Market who are interested in ordering or commissioning fabrics from me. I will also be selling a new selection of handwoven cushions and illustrated Christmas cards."
Intrigued by identity, Fadhel tells us: "I will be showcasing my ongoing research as part of my project 'To Be And To Become'. The project is an auto-ethnographic study examining my Swedish family heritage of craft. It evolves around the Hedared basket; it's cultural-historical reason, social influence, and contemporary significance. I am working in a space between theory and practice, producing a publication in conjunction with my woven studio work. The publication will be available for pre-orders."
"I am currently working on my new project which is developed from my MA Final Project 'Tangible Memories'", explains Peipei. "I will showcase some pieces from this new project, and these will be for sale and commission as well."
You can see discover from Peipei, Ashley and Fadhel – along with established clothworkers Alicia Rowbotham, Millie Thomas and Francesca Miotti – on their joint 'Clothworkers Cockpit Weavers' Instagram account.
You can meet Ashley, Fadhel, Peipei and all Cockpit's makers in Holborn from 26 – 28 November and in Deptford, 3 – 5 December.
All tickets and visiting information here.